S
o comes the big question…
"What is the best dog food?"
  Well, I'll tell you over the years I have heard a dozen times about the so called "Best dog food." I don't know what the BEST dog food is. Seriously, who could know?
What we do know is that after all our investigation and research we have a food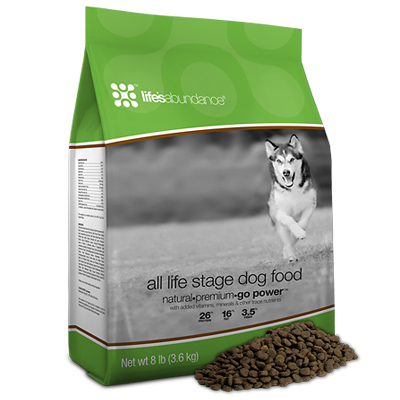 we have chosen to provide our dogs with optimum health and nutrition. Meet Life's Abundance ! We feed to our own personal dogs and we recommend it to our clients. After half a decade we have experienced nothing but amazing results.

Life's Abundance is holistically balanced and provides the nutritional harmony that's important to help your canine achieve and maintain optimal health.
Our natural dog food recipes contain only the finest ingredients, like …
• A proprietary blend of vitamins & minerals
• High-quality protein from chicken meal for strong muscles
• An antioxidant system including vitamins C & E
• Prebiotic fiber & guaranteed probiotics
• A selection of nutritious vegetables
• Omega-3 fatty acids for healthy skin & a shiny coat
• Calcium & phosphorus for healthy teeth and strong bones
• Dietary fiber to help maintain a healthy digestive tract
To be the best dry dog food, this premium kibble contains …
• No artificial flavors or colors
• No corn, wheat or corn/wheat glutens
Fresher food is more nutrient-rich. While leading brands stockpile tons of food for months on end, our healthy dog food is made weekly in small-batches so it's only 4-to-6 weeks when it's delivered. When you buy this Life's Abundance dog food, your sweet pup will benefit from our strict inventory controls and product safety considerations that are second-to-none. Put your K-9 on the path to wellness. Provide them with a recipe for a long and happy life.
Reviews
Here from real people just like you and just like us who have tried and Love Life's Abundance.
Wonderful!
I love Life's Abundance! The quality of their food is so important. My English cream golden retriever had no hair below her waist with itching and sores; and this was from food from the vet! After introducing Life's Abundance her skin and coat have improved and she is gorgeous! Thank you Life's Abundance.
---
Good product, good service
For many years now, the product has been always great quality. My dogs really appreciate it. I had one dog, Red, that was a 75% shepherd mix. He lived to a ripe old age of 20 with no problems which amazed the veterinarians. His appetite was excellent and his coat extremely shiny to the end. Plus, he was a happy dog. Thanks, Life's Abundance!!!
---
Dear Dr. Jane Bicks and company,
I just wanted to tell you of the transformation of my dog. We decided to switch after being convinced by my brother who had recently adopted a boxer and wanted the best food for his puppy. So, we decided to order a med size bag (of Life's Abundance Premium Health Food for Puppies & Adult Dogs) and see how it went. He definitely liked the food and even in the transition there wasn't any diarrhea or any potty problems. After about a week, you could see a difference in his coat. What was once dull and lack luster, had a sheen and a softness that just made you want to pet!! Then the pads of his feet began to change…softer, almost as if someone had put lotion on them! The shedding stopped! So did the itching!! Thank you all for all of your hard work and efforts to make a dog food that is healthy for peoples' animals. I joke that my dogs probably eat better than I do!! Maybe you could get into health foods for people too!
Cindy S., Illinois
So, in the end you need to decide for yourself, "Which is The Best Dog Food?" But, take it from us you cannot go wrong with Life's Abundance!
'Owner of LimitLess Dog Training' – Ryan McGuire