Training Difficulty30%

T
raining your Temecula dog to eliminate in one area of the yard is a straight forward task, and given the correct approach and a little patience anyone can teach their dog to 'potty' in a specific spot.
Step 1: Establish a clear and defined area. This could be a grassy area or more commonly is an area set aside and covered with pea gravel. The area need not be large, but approximately 6′ x 6′ will work well. If you have more than one dog then re-size the area accordingly. Gravel for the area is ideal as it can be easily disinfected using an enzyme product such as Nature's Miracle.
Step 2: Remove any old feces from the rest of the yard. If necessary spray heavily used areas with Nature's Miracle to diminish the odor that has accumulated. Well used areas are common for dogs to develop and it can take time to break the habit of pottying on the grass. Keep in mind that dogs sense of smell is far superior to that of a human's, and their tendency is to eliminate where they smell previous eliminations.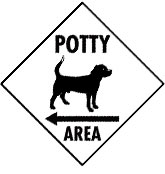 Step 3: Introduce your dog to the new spot. This is best done during a time when your dog is likely to potty, for example first thing in the morning. Using a leash to guide your dog, lead them to their designated spot and stand in the area. Shorten the leash to prevent your dog from wandering outside of the area. For those dogs who live on acreage out in Fallbrook, The Temecula Wineries or another rural area, using a leash probably already makes sense to you. However, when it comes to dogs who live in a tract style home in Temecula, Murrieta, Carlsbad, Encinitas or another area where fenced yards are common, you will still want to use a leash. This is where patience is key. Wait there until your dog begins to sniff around and squats. As the dog begins to squat, cue them with a 'go-potty' command. With male dogs sometimes providing a vertical object to 'mark' on will assist them. When the dog begins to eliminate, praise your dog calmly until they are finished. If your dog normally eliminates and defecates during this time, then walk your dog around the yard for a few seconds then return to their spot. Continue to wait until the dog begins squatting or spinning. As this happens praise your dog calmly. After they are finished eliminating praise them lavishly.
Step 4: Repeat. This is where patience is vital. Every time the dog goes outside to eliminate for the next month, the owner should lead the dog to their spot. You are essentially turning the backyard into an extension of your house. The patio, grass and gardens are the same as your kitchen, dining room and family room. If the dog continues to use the rest of the yard to potty without redirection then it will take longer (if ever) to teach him to potty on one spot. After 10-14 days you may no longer need the leash, however it's still necessary to lead the dog to their spot and to cue them with a command. After 30 days you may not need to lead the dog to their spot, but rather cue them to 'go-potty' on their spot. Supervision at this time is critical as it will be very tempting to just put the dog outside and leave him to his own devices. As mentioned before with a lot of patience (you are essentially re-housebreaking your dog) and the correct approach even adult dogs can learn how to eliminate in one spot in the yard.
Give it a try and stick with it for a few weeks. You will begin to see signs that your dog is 'getting it'. Remember little break-throughs lead to enormous leaps forward.
If you need additional assistance with teaching your dog where to potty in the yard or any other dog training, puppy training or behavioral issue LimitLess Dog Training Temecula  and LimitLess Dog Training San Diego happy to assist you. Free Evaluation of your dog. We come to you in The Temecula Valley including Murrieta, Menifee, Canyon Lake, Winchester, Fallbrook, Bonsall, Wildomar, Murrieta Hot Springs, and more, as well as most areas of San Diego, including Oceanside, Carlsbad, Encinitas, Poway, Vista, San Marcos, Escondido, Del Mar, Rancho Bernardo, Valley Center and more!